After a few months of the official announcement about AIDRO partnership with EOS to develop AM into petroleum and natural gas sectors, AIDRO has now been inserted into the EOS Ecosystem thanks to its expertise and knowledge on 3D printing applications in the oil & gas industry.
The rinnovate Ecosystem panel will be official showed at EOS booth during Formnext 2019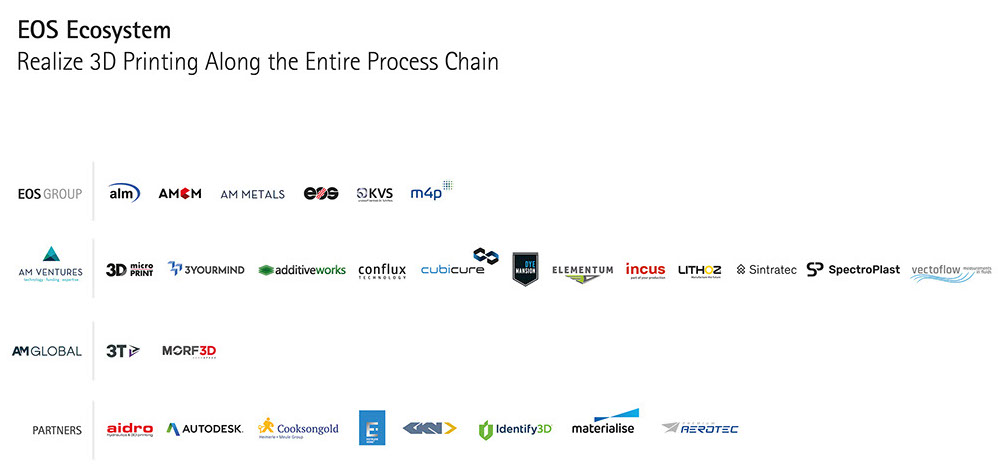 AIDRO is the first Italian company to be mentioned as official EOS partner and together they will play an important role in the development of 3D printed solution for the oil & gas applications. "I am really proud to see my company's name inserted along big players like Autodesk or GKN in the EOS Ecosystem. Careless of being an SME, we are flexible and creative to find solutions and we are considered a good partner for the development of additive manufacturing", says Valeria Tirelli – CEO of AIDRO, "AM is an amazing technology that allows us to solve various problems and give life to an impressive amount of ideas. When it comes to petroleum and natural gas applications, we have the expertise and the technical know-how to develop 3D printed parts, such as fast spare part and new products. We have strengthened our relationship with EOS and with their support on the production processes, we will be stronger and faster to serve the giant O&G companies that are more and more interested in the additive technologies." The additive manufacturing path of AIDRO started 6 years ago when the company approached additive manufacturing after almost 40 years of standard hydraulic valves manufacturing. Some little ideas for toolings and prototypes soon became ideas for special items and application that only the AM world could manufacture. Inspired by nature and natural shapes the company kept the pace of the industry following the highest standards of quality.